(by Daniela Swider)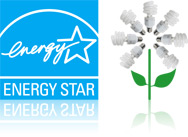 We have been talking to you, our customers, for quite a while now about switching to CFLs over incandescent light bulbs. We have heard all kings of arguments against them such as "CFLs flicker", "CFLs buzz", "CFLs don't light up immediately", "CFLs burn out faster than incandescent", "CFLs have mercury", "CFLs won't work in my 3-way lamp", "CFLs don't work with dimmer switches", "there are no flood CFLs", "I'd rather buy LEDs".
We are here to tell you that CFLs have improved substantially in the last 10 years and the ones we offer do not flicker or buzz. They light up instantly and their use actually lowers the amount of mercury in the atmosphere because they use so much less electricity than incandescents that they are hands down the better choice environmentally and economically. LED lights for residential use are now available but at $40-$80 a pop, they are still too expensive for most of us.
Over the last few months we have expanded our CFL selection to include bulbs for a variety of applications indoors and outdoors - dimmables, flood lights, 3-way bulbs, candelabra base, full-spectrum and warm-light CFLs. We have addressed every one of your concerns, so now you have no excuses to keep using incandescents. 
We think that everyone who hasn't already done so, needs to switch to CFLs NOW!
What do YOU think?